Library
Detailed Reading Program 
Reading is an indispensable skill for learning. Our school has implemented a comprehensive reading program.
Improves Vocabulary 
With our library's expansive selection of materials, students can explore their interests and improve their vocabulary.
Digital Resource 
Our library has multimedia resources with internet access for projects and other academic endeavors.
Rich List Of Books
Our library has a rich list of books, journals and magazines to help them to meet the intellectual and academic.

Computer Lab
Education System 
Technology has become an integral part of our everyday life. We offer digital education to students.
Interactive Software  
Our  interactive software offers immersive learning to students in real-time.
Digital Age 
Early exposure to the fundamentals of computers in this age of technology prepares the child for the future.
Multimedia
Computer labs at Mahalakshmi Vidya Mandir are well-furnished with multimedia facilities.

Digital Class Room
Smart Class
Smart classes with multiple technologies enables teachers to customize their curriculum..
Benefits Of  Smart Class
Online digital resources with interactive classes enables students to expand their knowledge.
Smart Boards
Smart board with audio-visual aspects makes the learning experience enjoyable.
Macmillan
Macmillan education enables students at MVM to speak fluently in English. This build self-confidence in students.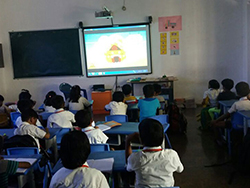 Sports Facilities
Sports Activities
The school sports activities are conducted periodically to keep the students physically fit and active.
School Sports
Professional coaches and sports persons trains the students for inter-school competitions.
Develop Skills
Being in sports improves students' discipline, self-esteem, decision-making abilities, interpersonal skills
Athletes
Our School offers training and facilities to create world-class athletes and sports persons.